There is no different looks about Dark Lord of the Smith, just imagine Darth Vader, but pixellated, and you have Dark Lord of the Smith.
His description entails: "He finds your lack of smiths... disturbing."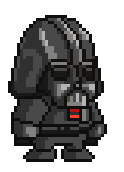 Smythical Special
The Dark Lord of the Smith's smythical special is the Laser Sword Strike, paying homage to the lightsabers from Star Wars, this special swings a lightsaber (light sword) down upon the anvil and deals 500% power.
Ad blocker interference detected!
Wikia is a free-to-use site that makes money from advertising. We have a modified experience for viewers using ad blockers

Wikia is not accessible if you've made further modifications. Remove the custom ad blocker rule(s) and the page will load as expected.